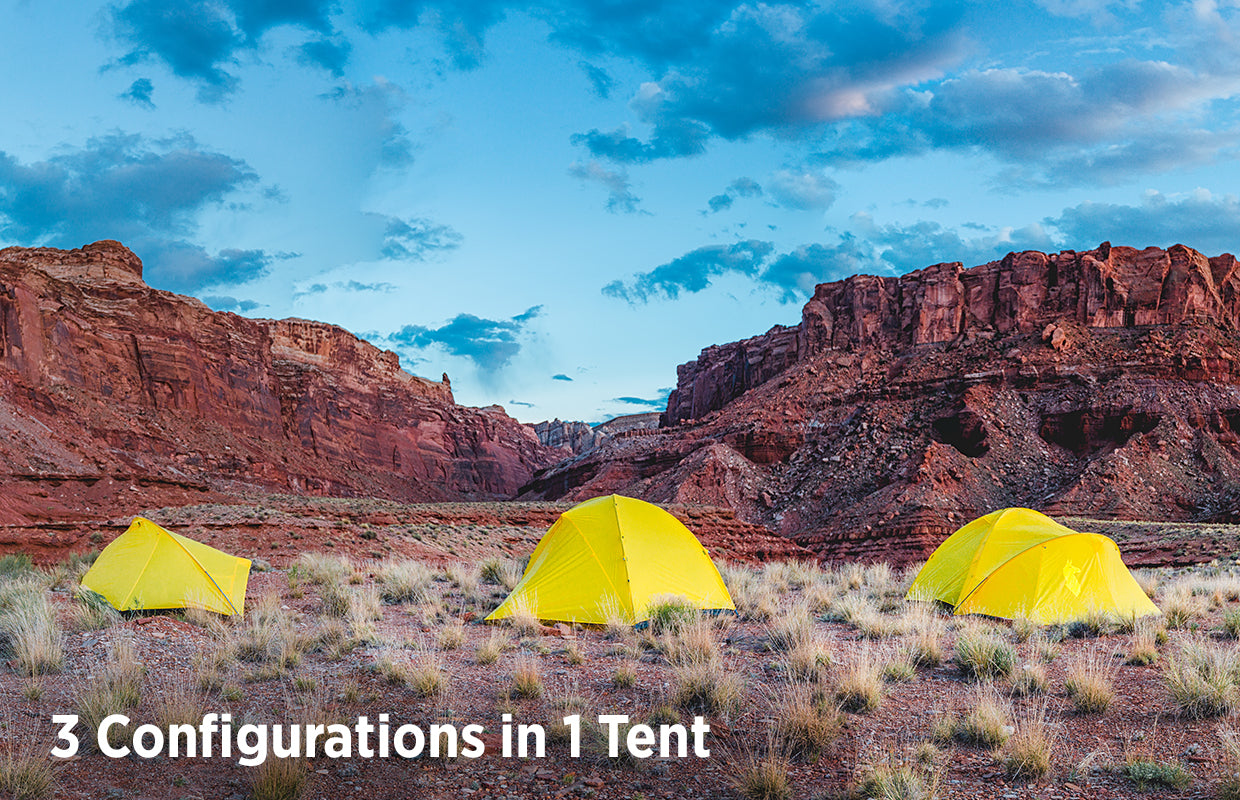 Indiegogo: Inti 2: The World's Most Versatile Tent. A do-it-all shelter for your solo adventures, two-person backpacking trips, or camping groups of 4. Read this...



The Columbus Dispatch: Hikers rely on Amtrak, shuttles on Glacier National Park trip. We weren't driving, so yes, we'd have some wine. We then sat back and watched as 1,500 miles went by aboard the Empire Builder. Read this...



The Sacramento Bee: Alaskan backcountry beckons wild at heart. I felt relief when I saw the bus that would shuttle me out of the park. Soon I would be home. Read this...



Hammocker: Emberlit Titanium Backpacking Stove- Review. The stove is so light and easy to put together and dismantle that it's a winner in my eyes. Read this...



sweetwilder: Gear List - Long Trail. For me the focal point of this trip is nature, but I do care about what I carry. Read this...



The Big Outside: The 15 Best National Park Dayhikes in the West. I put together this list of 15 favorite national park dayhikes in the West based on personal experience. Read this...



GORE-TEX Blog: Yosemite High Sierra Camps: How to Plan Your Trip. The majority of the park's nearly 4 million annual visitors never venture out of the Yosemite Valley, which makes up just seven percent of the park's 747,000 acres. Read this...



Trail Climb Nation: Zion Narrows Top Down Trail. The route is a strenuous 16-miles. Fit hikers can do this as a long day hike (10-13 hours to complete). Read this...



Ray Jardine: The Blood Cleaner. When put on and powered up, the Blood Cleaner sends pulsed micro-currents through the skin and into the blood vessels. Read this...



REI Blog: 11 Camp Cooking Hacks From REI Experts. Pop fresh popcorn in a soda can. Read this...



Oboz Trail Tales: Dear World, Meet the Oregon Desert Trail. By connecting remote and stunning regions in Oregon's high desert, hikers could be immersed in the land ONDA has been striving to protect for 25 years. Read this...



MSR Summit Register: 5 Advantages of Liquid Fuel Stoves. Which one burns hotter? Which is more efficient? Which weighs less overall? Which is better? Read this...



The Ultralight Hiker: Andrew Skurka on Down Versus Synthetic. Synthetic insulations are absolutely not "warm when wet" like is often claimed. Read this...



Carrot Quinn: Onward to the Great Divide Trail! The GDT is extra, extra remote. Read this...



Feature Shoot: Conservation Photography in the Age of Instagram. Some litter; others try to take selfies with resident animals; a few even paint hashtags on historic rock faces. Read this...



Korpijaakko: Crossing Greenland - So Familiar, So Different. This was my second time crossing the ice cap, the first being in 2014. Read this...



Gossamer Gear: DIY Self-Tensioning Guylines. While there are some manufacturers who retail self-tensioning guylines, it is pretty easy to make them yourself. Read this...



The Atlantic Monthly: Earth From Above: Expedition 47 Aboard the ISS. An oblique view of the Himalaya Mountains, seen on May 15, 2016. Read this...



EasyKlip: The World's Strongest Tarp Clip. The harder the pull, the tighter the grip. Read this...



Pacific Crest Trailside Reader: Escaping the Rat Race. Backpacking in the great outdoors is almost always free. And day after day, there is simply nowhere to spend money. Read this...



Must Hike, Must Eat: I'm In Love. I'm in love with my life. Read this...



Married To The Trail: Indecision At 10,000 Feet. I've met several strong, confident men who have been struck by fear across these Colorado slopes. Read this...



Bedrock & Paradox: LaSportiva Bushido review. La Sportiva fits lower volume feet, with narrow heels and mid-width forefeet. That's my feet. Read this...



Section Hiker: LightHeart Gear Rain Jacket Review. A lightweight ripstop nylon waterproof rain jacket made the old-fashioned way. Read this...



Signpost: Q&A with Craig Romano. Washington's '100 Classic Hikes' Guidebook, Rebooted. Read this...



Rambling Hemlock: Overnight at Elizabeth Lake. I joined a loon and mountain goat survey trip to Elizabeth Lake in Glacier National Park. Read this...



Ultralight And Comfortable: Recipe: Dried banana chips. From energy bars to hiking snacks to breakfast, dried bananas is one of my most used. Read this...



Ultralight And Comfortable: Recipe: peanut buttery butter bar. Peanut butter in my opinion is the nectar of the gods and makes the world go round. Read this...



Ultralight And Comfortable: Recipe: Pecan chocolate mush bar. I'm weak as hell when it comes to chocolate. Or most things that require any kind of self discipline. Read this...



Must Be This Way: Review: Inov-8 Roclite 295. The bottom line was that the 295s performed superbly and I'm now back with Inov-8. Read this...



Rocky Mountain Journal: Sightings of mountain lions common in Colorado. The most common problems occur when they prey on pets or farm animals. Read this...



Backpacking Bongos: Slackpacking Nidderdale. It was not the snow that was impressive but the colour of the sky. Read this...



Hyperlite Mountain Gear: The Hardest Thru Hike in the World. Twenty-four astronauts left the Earth's orbit for the moon. But only 12 people have ever walked the length of Grand Canyon. Read this...



The Hiking Life: Gear Review: Therm-a-rest NeoAir XLite. This gear review is six years and 20,000 plus hiking miles in the making. Read this...



Sprinkles Hikes: Tick Prevention for Summer Hiking. Now that tick fears are in the forefront of my brain I'm choosing to pretreat some gear again. Read this...



Hike Now, Work Later: Tide Crossing at Olympic Wilderness Area. I have listed all 6 high tide crossings going from south to north. Read this...



Bogley Outdoor Community: The Two Zions. The second Zion is the backcountry wilderness...we saw no other people until a few feet from the trailhead. Read this...



fubiz: Vast & Aerial Landscapes in Iceland. Merlin Kafka recently did a journey in Iceland. Read this...



Hiking in Finland: The Week in Review 237. "Of all the paths you take in life make sure a few of them are dirt." Read this...



Section Hiker: Zerogram Zero 1 Tent Review. If you're not familiar with the manufacturer Zerogram, they are a Korean gear manufacturer founded in 2011 Read this...



Discover Magazine: Science in America's National Parks. A century ago, Congress created the national park system — and ended up preserving some of the best research sites in the world. Read this...



Faith is Torment: Remnants: Paintings by Kevin Peterson. Paintings of children interacting with animals by Houston-based artist Kevin Peterson. Read this...